Keep Your Assets Organised Online
Your Will most likely lays out the distribution of your physical, financial and other types of assets, but things are changing and more and more important documents are going digital. Creating a repository of digital assets will make it more straightforward for a chosen representative to access your accounts in an emergency or following your death.
Upload Your Important Documents Securely
Your free Legado vault is a safe place online to securely organise, store and share your important documents including insurance policies, credit card, savings and bank statements, your Will, and your pension benefits. This is what your vault looks like:-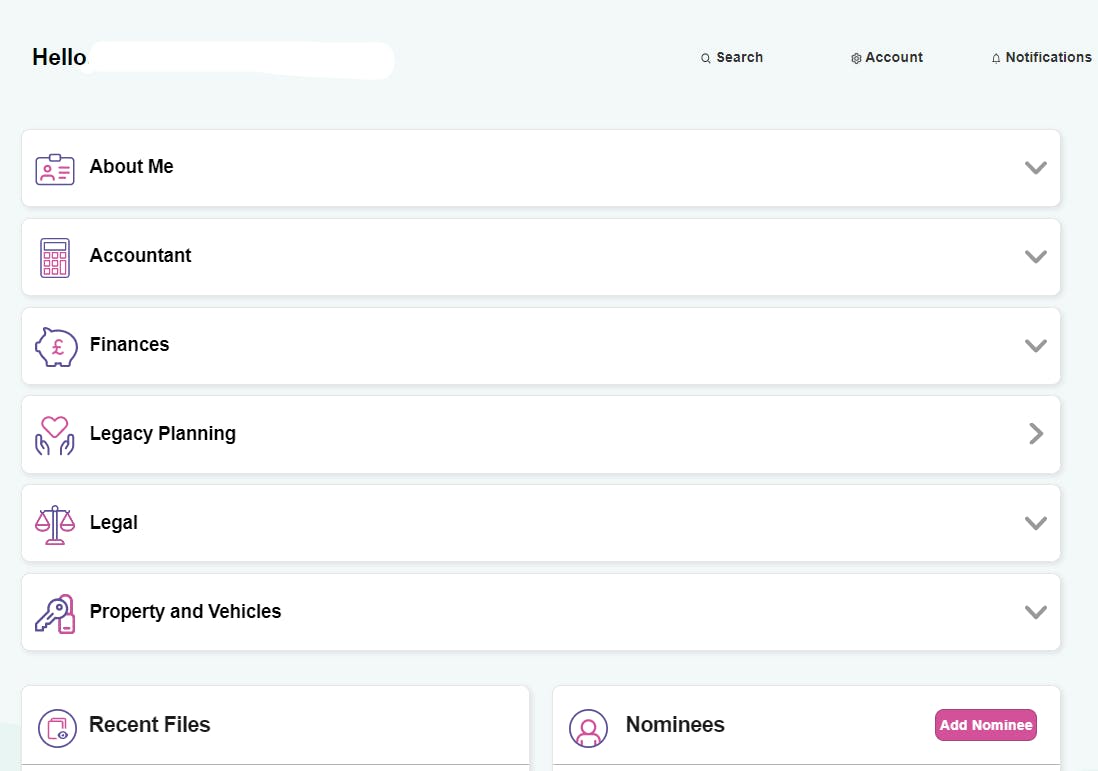 Digital Life Planning
What do you want to happen to your digital presence including your banking, email, PayPal, Amazon or even your social media accounts? With appropriate planning, you are able to have peace of mind knowing your online presence will be treated in the way you desire, securely and confidentially.
Set up a Free Digital Vault
To assist with your Digital Life Planning, 55/Redefined has partnered up with Legado to offer a one-stop-shop digital vault solution for members which provides much-needed reassurance for the secure storage of important documents and digital assets. Legado is a trusted company whose clients include FNZ and Prudential, and who partner with organisations such as financial software company MoneyHub.
How to Set Up Your Account
You can set up your account today. You will need to:
Confirm your email. This is a secure service, so you will be asked to confirm your email if you haven't already done so (just click through, and the instructions will appear on the screen if you need to do this).
Set up extra security called Two Factor Authentication, and access the secure login site. You will be asked to set up your login by confirming your mobile number and a text will be sent to you - you will see a screen just like the one below.
Don't worry - it sounds a lot more complicated than it is, and you do not need any documents right now.
Set up an account with Legado and take advantage of this very useful online tool.