Article may contain sponsored links
Six Steps to Make The Most of Your LinkedIn Profile
Get ahead on this global business platform. Beat the search algorithms, and raise your profile so that recruiters contact you first
Naomi Chadderton
An experienced editor and journalist specialising in news and lifestyle.
When it comes to job hunting, LinkedIn has revolutionised the recruiting world, making it easier than ever for recruiters to reach out to find and target job candidates, irrespective of whether they are actively or passively job hunting. With around 875+ million members currently using LinkedIn, it's where 87 per cent of recruiters and hiring managers source their candidates.
Only 16% of Over-50s are Active on LinkedIn - Take Advantage of this Opportunity
Our 2022 study, The Unretirement Uprising, (in partnership with Reed Talent Solutions), showed that only 16 per cent of the over 50s are active on LinkedIn. With the current workforce shortage and growing demand for older workers, that's an opportunity gap that's waiting to be filled - by you!
Changing careers, reskilling, moving up or starting again can be overwhelming. From the emotional challenges of not being sure of what you want to do (try our Purpose Finder if you're in need of inspiration), to the technical challenges of being up to date with how and where to promote yourself, getting back into work can be overwhelming. Pursuing new job opportunities doesn't have to be difficult.
LinkedIn is the No. 1 Platform for Recruiters to Search for Candidates
If you're not already on LinkedIn, you need to be. It's the first place many recruiters go. And if you are already there, it's essential to keep your profile optimised and updated to get seen.
We recently ran a LinkedIn masterclass for the over 50s with The Career Academy's Jane Jackson, an award-winning career success coach for mid-life changers.
Linkedin Live Masterclass with Jane Jackson - Redefining Expectations of Job Hunting for over 50s

Join us for an exclusive LinkedIn Masterclass hosted by world-leading expert, Jane Jackson, as part of our "Positively Redefining Expectations of Job Hunting for Over 50s" series. About Jane For over 20 years Jane has dedicated her career to helping professionals to create a life and career they love. Jane is a Career Management Coach, Author of #1 Amazon bestseller, Navigating Career Crossroads, and Linkedin Top Voice for Job Search and Careers in 2020 & 2021. She was awarded 'Excellence in Practice' by the Career Development Association of Australia 2021. Her podcast, 'Your Career Podcast', was named top 20 Career Podcast in 2020. 🔸 Awards: ✦ LinkedIn Top Voice 2020/2021 - Careers & Job Search ✦ CDAA Excellence in Practice Award NSW 2020 ✦ Top 20 Career Podcasts – Feedspot ✦ Top 20 Career Coaches to Follow in 2020 – TalentLMS ✦ Key Person of Influence Profile Award: Most Engagement on LinkedIn 🔸 FEATURED IN/INTERVIEWED BY: Sky News Business | Channel 9 'Beauty & The Geek' guest judge | The Huffington Post | ABC Radio Sydney | 2UE Talking Lifestyle | Sydney Morning Herald | Australian Women's Weekly | CareerOne | SEEK | The Daily Telegraph | metro UK 🔸 WHAT THEY SAY: "Jane immediately understood my situation, coaching needs and the direction I wanted to head in, and tailored a program accordingly. Her support was invaluable, and her advice helped me successfully achieve my goals." Sarah C. "Jane combines commercial acuity with warmth, humanity, a relentless drive to make a difference to the lives of those whom she coaches and a dash of "tough love" when needed." Greg S.

Posted by Life/Redefined on Thursday, February 2, 2023
Here are some of her tips to ensure that your LinkedIn profile is a help, not a hindrance to your career success.
1. Make Sure You Have a Professional Headshot, Custom Cover Photo and a Compelling Headline
The phrase 'never judge a book by its cover' doesn't apply to LinkedIn, where it's vital to have a profile photo that makes a positive impression. Recruiters spend almost a fifth of their time looking at your photo when reviewing LinkedIn profiles, so it's important to ensure you convey who you are as a professional. It's also important to have an image behind your photo (the cover photo), which is a visual opportunity to convey something about who or where you are.
Your headline (the brief description that appears right below your name) is your first opportunity to convey something about who you are and what you do. It needs to be compelling. You've only got 120 characters to play with, so being clear and specific to your goals is vital. Take a look at 55/Redefined's Founder's profile. Lyndsey Simpson clearly states, "Founder/CEO at 55/Redefined Group. Challenging Ageism and adding 10 productive years to life." This statement tells recruiters exactly who Lynsey is in a few words.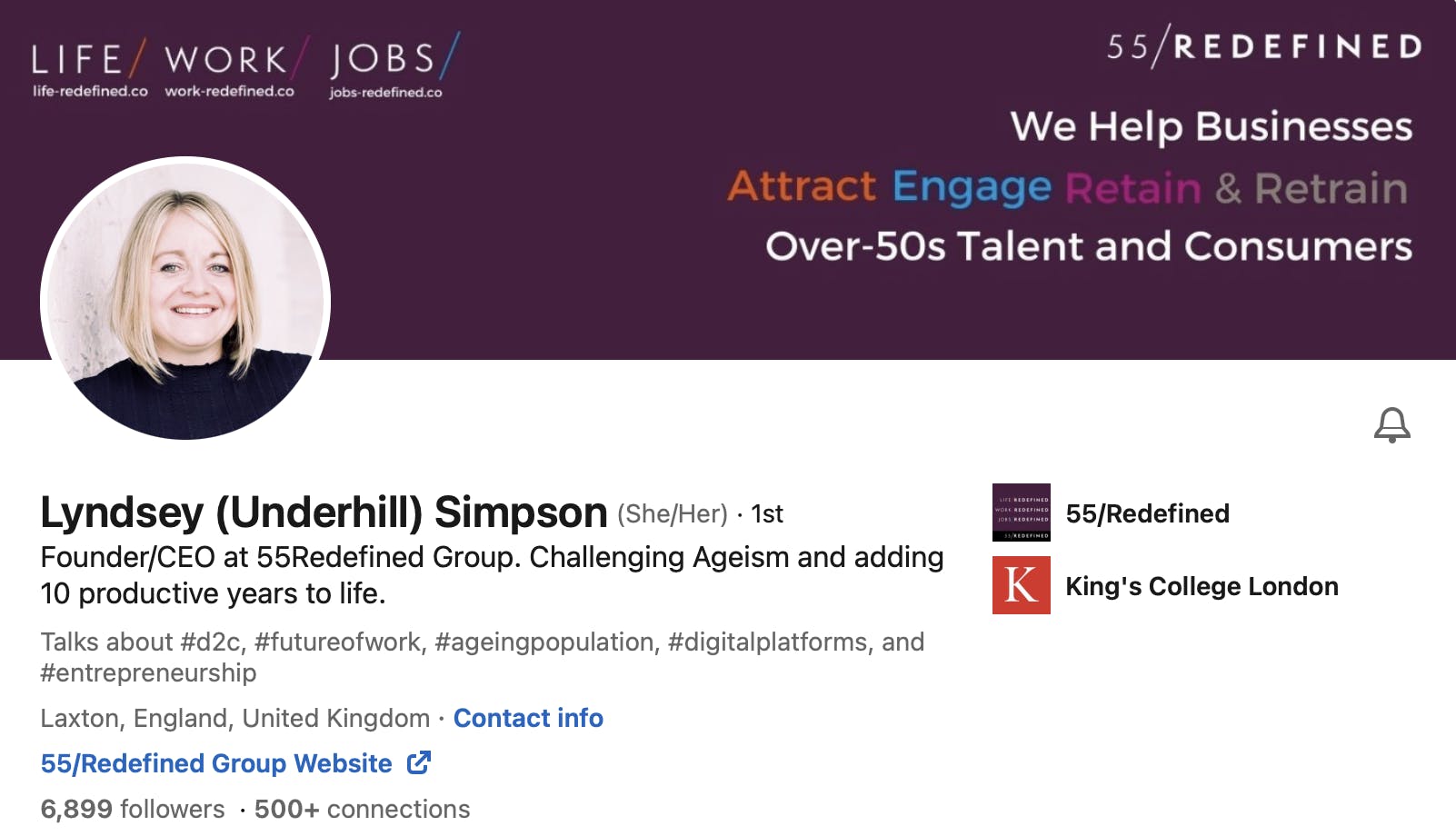 2. Perfect Your "About" Section
Pay close attention to your "about" section. It's the place to give an overview of your professional life in around 2000 characters. Think of your LinkedIn summary as an online cover letter. It should highlight the best aspects of your work experience and academic achievements, as well as outlining your professional objectives and ambitions.
Look at what others are doing, if you need inspiration.
Check out: LinkedIn: Profiles that Don't Suck! on Amazon, for more great tips.
3. Make Your LinkedIn Profile Searchable
Making your profile "discoverable" is an important part of the job recruitment process, and LinkedIn uses SEO (Search Engine Optimisation) to rank and promote profiles, based on keywords (the primary words that fit the skills and experience of the people they are looking for).
Recruiters use a tool called LinkedIn Recruiter to search for talent. Powered by Artificial Intelligence, it helps recruiters find candidates who not only match the job requirements but are also likely to be interested in the role. In the tool, recruiters specify the title they are willing to hire for, as well as the skills that a potential candidate should have.
To find the best keywords for your LinkedIn profile, put yourself in the shoes of the person hiring for the job you want, then identify and use the job title words, and key skills that they would look for in their profile as keywords for your profile.
Don't overuse keywords, though. Use them naturally and include other similar terms to increase your chances of getting found. Using the same keywords repeatedly is classed as "keyword stuffing" and LinkedIn can (and does) demote profiles in search results that overuse them – so keep your content sounding natural.
4. Remember to Make the Most of Your Skills in Your LinkedIn Profile
If you're looking for a role that is dramatically different to the one you currently do, it's important to mention the skills that you have which align with the role that you want, so recruiters can identify you as a potential candidate.
LinkedIn research shows that members who have five or more skills listed are contacted up to 33 times more by recruiters and other LinkedIn members and receive up to 17 times more profile views. There are age-inclusive employers out there looking for people like you – they just have to be able to find you. Think about your skills from an employer's perspective. It's not just about what you're good at, it's about showcasing what it is that they are looking for.
5. Get Recommendations for Your LinkedIn Profile
Don't be shy to ask your connections for endorsements and make sure you endorse others too – the more you endorse and recommend others, the more you are likely to get in return. These endorsements add credibility to your profile and help support the skills and experience you have gained throughout your career.
6. Let Recruiters Know That You're Open to Opportunities
Once your profile is ready to go, you can let recruiters know that you're open to new opportunities. This setting can be made public or private, so that your current employers don't have to see that you're planning on a career move.
Click on your LinkedIn profile dashboard and change the setting under "Career interests." Only recruiters will be able to view this – not your current employer. You can also choose the public options, to include an "open to work" banner on your profile photo if you're ready to tell the world.
If you're still struggling to perfect your LinkedIn profile, consider signing up for Udemy's LinkedIn for Beginners course, which will not only teach you all the basics, but also help you to create a profile that will make a great first impression.
If Technology Feels Like a Tricky Task - Support is Available
Once you have a solid LinkedIn profile that has been optimised to be found, the recruiters will start to come to you, saving you time in your job search efforts, so it's worth taking the time to get it right and be willing to learn along the way. There are also professional profile writers and LinkedIn experts who can help, if you need a few pointers before you get going.
There's never been a better time to be putting yourself back into the workplace. Be bold. Be heard. Be unafraid and don't sell yourself short!
Where to Go for Careers Advice, or Job Opportunities
For more inspiration, check out our Careers Advice section on Jobs/Redefined. You can also stay in touch with us on LinkedIn where we share the latest news on Ageism in the Workplace, or if you are job hunting, go over to our Jobs Board which lists thousands of vacancies with Age-Inclusive employers.