Join Us! Become a Redefiner and Live With Purpose and Passion!
*When you subscribe, we will send you our regular newsletters. Unsubscribe at any time (terms and conditions).
Why Join?

Luxury lifestyle offers and discounts including travel, fashion, fitness, arts, home, garden, & culture
Redefiner stories to inspire and ignite your passion for life!
Support for your career, a new job, or starting a business
And more - all tailored for vibrant, go-getting over-50s like you!
Join Us! Sign up today for FREE
Be Part of a Community Where People Aren't Limited by Age, Where Age Stereotypes Don't Exist and it's the Norm to Live Your Most Dynamic, Fulfilling Life.
Why Was Life/Redefined Created?

When you hit your 50s, several things hit you right back.

One, that you're 50.

Two, that you've probably spent a lot of time working very hard to support your family, your workforce and your ambitions.

Three, that sometimes life is still a struggle.

Because at 50 and over, we believe there are two metaphorical in-trays on your life-desk: one is called 'Life's good'; the other is called 'Life's tough'.

The Life's Good In-Tray
And who's got to deal with whatever hits those in-trays? Yep, you guessed – yours truly. The good tray, of course, is easy-peasy-yes-per-leeeasy. Got a promotion? Got a pay rise? Got an unexpected dividend? Got an upcoming marriage? Got mate's rates on a big wine order? Got a stuck-at-home kid who's just got a job offer? Got another box ticked off your bucket list? Yadder, yadder, yadder – gladder, gladder, gladder.

The Life's Tough In-Tray
The other tray, though, can be the stuff of afternoon daymares, of sleepless nights and of mid-life crises. Lost your job? Lost your mojo? Lost your partner? Lost your house? Lost your nest egg? Lost your reason to get out of bed in the morning? Or your reason to get back into it at night?
At Life/Redefined, we get it. We're grown-ups as well. And we're pretty sure we can help with both of life's in-trays. Or certainly, point you in the right direction.

We're the new go-to place for today's vibrant, thrill-seeking, healthy, young-minded, future-focused, on-the-pulse, passionate, fun-loving generation who have that you-bet-your-ass-I-can-do attitude.

DOES THIS SOUND LIKE YOU? THEN YOU ARE IN THE RIGHT PLACE.
Take advantage of FREE membership! Sign up is quick and easy.
Access a wealth of luxury special offers to upgrade your lifestyle, PLUS tons of expert content on the topics that interest you AND advice from our hand-picked selection of industry experts.
What is the Life/Redefined Best Partner Promise?

As the UK's champion for over-50s, our Partner Promise recognises products and services that set out to make life simpler and more seamless for you, so that you can spend more time living and doing the exciting things. Our offering includes:-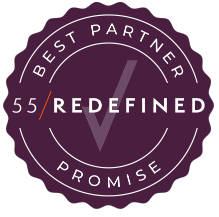 Lifestyle and Life's Passions
Love holidays, fashion, fitness, and your home? What's your indulgence? Is your interest in watches, art, wine or cars? There's offers galore inside including luxury holiday destinations.
Jobs
Find career opportunities and search exciting jobs tailored for you. Connect with great companies who are looking at recruitment in a whole new, pro-age way. This is unusual in the job search industry. You won't find a collection like this anywhere else. It's new thinking and we like it - and hope you do too.
Career and Purpose
We partner with organisations that champion age diversity at work. Your membership includes a library of free online training and assessment tools. Why not start with a 20-minute course on creative problem solving, or developing your leadership style? Check out the list once you've logged in.
Finance
There's information, help and advice for over-50s mortgages, loans, and insurance. You could even take a no-obligation Financial MOT.
Legal
Get succession planning as well as guidance on family, property, wills, and trusts.

We're the new go-to place for today's vibrant, thrill-seeking, healthy, young-minded, future-focused, on-the-pulse, passionate, fun-loving generation who have that you-bet-your-ass-I-can-do attitude.

IT'S YOUR LIFE. OWN IT. JOIN TODAY.