Article may contain sponsored links
From Surfing to Pinxtos: Exploring the Best of the Basque Region
While southern Spain may be the number one holiday destination for Brits, the north of Spain offers a completely different kind of travel experience for the discerning traveller.
In a recent travel piece, we highlighted the beautiful Marqués de Riscal Hotel, in northern Spain as one of our dream destinations. The Gehry-designed hotel, an architectural masterpiece of design, is located in the beautiful Basque Region of northern Spain.
While southern Spain may be the number one holiday destination for Brits, the north of Spain offers a completely different kind of travel experience for the discerning traveller. Closer to home for UK tourists, it's the perfect spot for a weekend break.
The Basque Region has a different cultural identity to other parts of Spain, which is expressed through its food, art and history. This unique region boasts Europe's oldest language, Euskara, which is still widely spoken by locals. But that's not all – the Basque Region is also a top destination for hikers, foodies and wine lovers, thanks to its mix of coastal towns, mountains, and verdant, green countryside, making it an ideal location for tourists in search of something a little different. Or why not make it part of an amazing road trip to fully explore and enjoy this beautiful part of the country?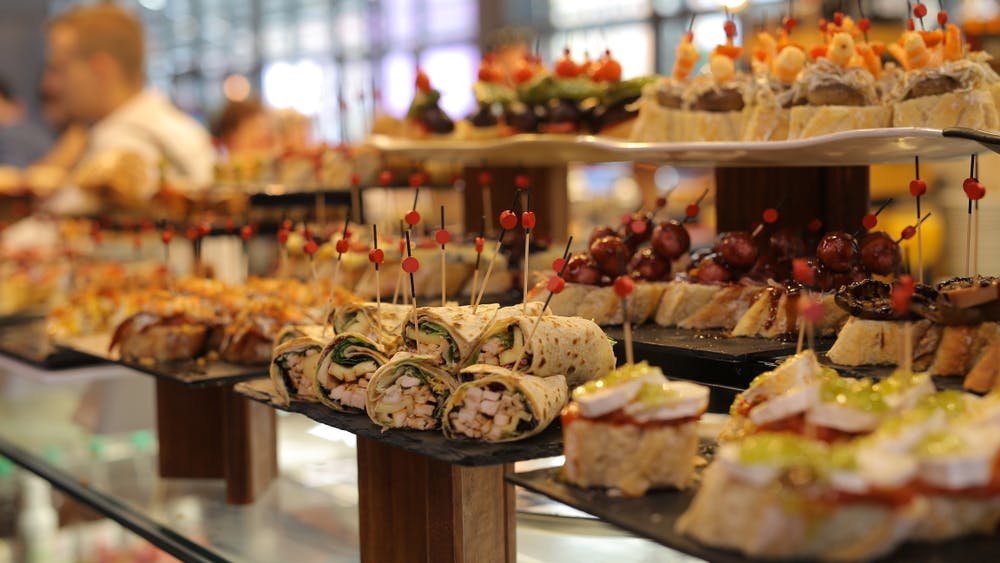 A Food and Drink Lovers Paradise
The Basque Region is famous for its cuisine, and food lovers will find plenty to delight their taste buds here. Basque cuisine is characterised by its simplicity, freshness, and use of local ingredients. Seafood, grilled meats, and pintxos (small tapas-style dishes) are all staples of the Basque diet.
The Basque Region boasts some of Spain's best restaurants, wineries and vineyards, and between beautiful San Sebastian and bustling Bilbao, there are an incredible 29 Michelin stars that span the two locations. There are also plenty of guided local food and drink tours you could participate in.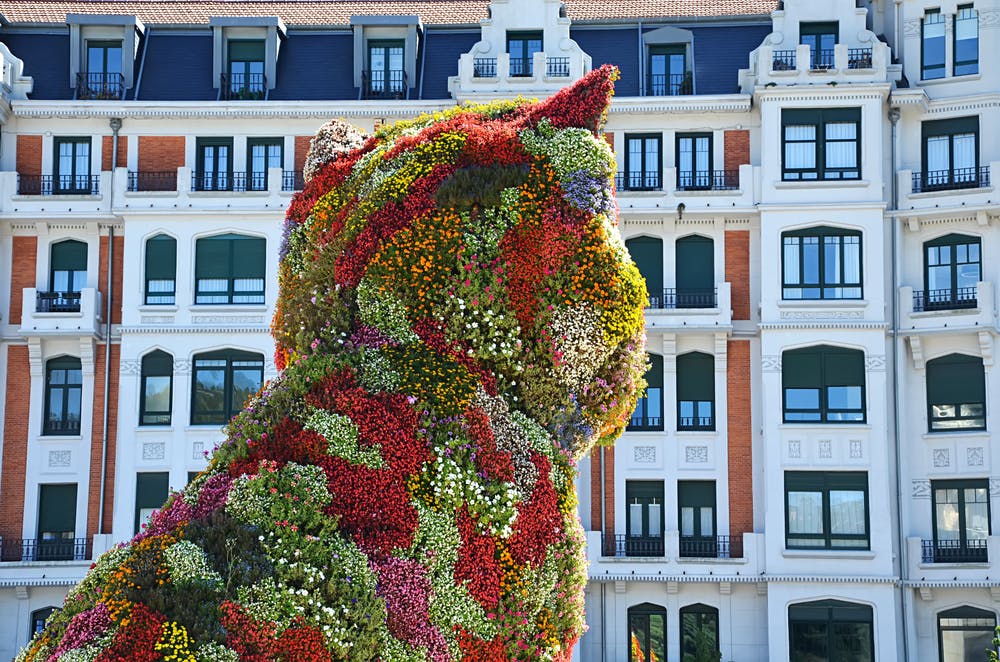 Be Amazed by Bilbao
Bilbao is the vibrant heart of the Basque Region and a top foodie destination, with a lively mix of arts and culture. It's the perfect spot to explore for a weekend away.
Don't miss the Guggenheim Museum of contemporary art, designed by Frank O Gehry (who also designed the Marqués de Riscal Hotel), which features its own Michelin-starred restaurant. Explore the Casco Viejo, Bilbao's old town; a maze of narrow streets, colourful buildings and historic churches. It's a great place to try local snacks and watch the world go by.
Take a walk along the Ría de Bilbao – the river that flows through the city provides beautiful views and is home to many parks and green spaces, including the famous Guggenheim Museum's Puppy sculpture. Or visit the Basilica de Begoña – this beautiful church is a popular pilgrimage site for locals and is located on a hill overlooking the city, offering spectacular views.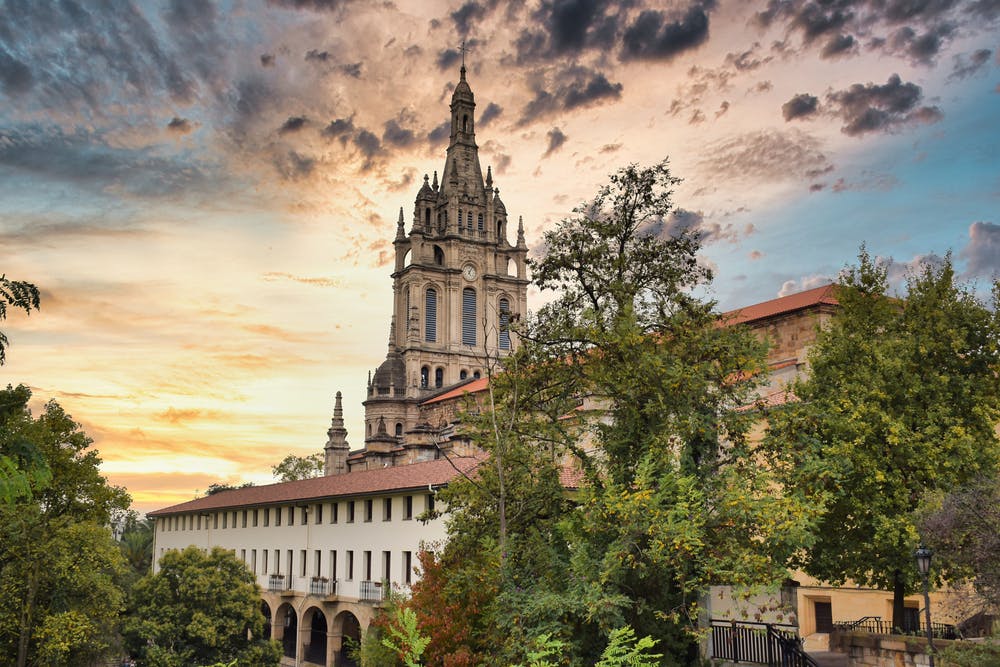 Head East to San Sebastian
A short drive or train ride east will take you to the seaside town of San Sebastian, which boasts the second-most Michelin stars in the world (a phenomenal 16). Loved by chefs and foodies alike, including the late Anthony Bourdain and chef Rick Stein, San Sebastian is a food lover's paradise. Discover some of the best local, family-run eateries and hidden gems on an exclusive guided evening tour.
But San Sebastian isn't just about the food – it's also a picturesque town with a beautiful bay and stunning beaches. Stroll through the old town, which is full of narrow streets, charming buildings, and lively squares.
From Bilbao and San Sebastian, you can also venture out to the surrounding countryside, where you'll find picturesque villages, lush green valleys, and rolling hills. Experience the unique Basque culture and traditions by visiting a traditional Basque farmhouse, where you can taste local specialities and learn about Basque history and heritage.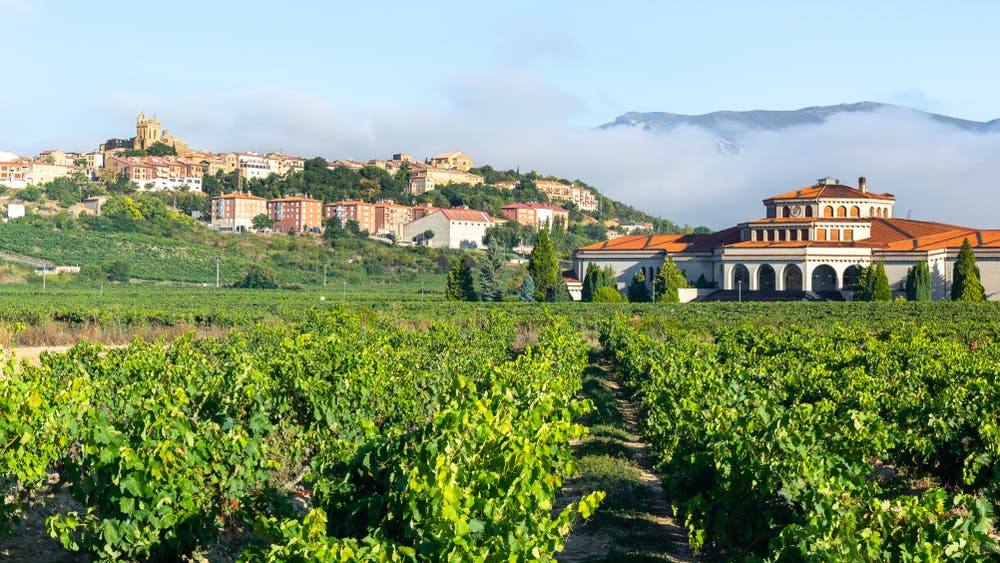 Enjoy a Drink (or Two)
Known for its world-famous wines, the Basque Region is the perfect spot for a wine tour.
In the area surrounding the Marques de Riscal hotel is the Rioja Alavesa region, with its many bodegas, including the famed Bodegas Baigorri, Bodegas Ysios and many more. You can take a tour of the vineyards, enjoy wine tastings and learn more about their history and wine production.
If wine isn't your thing, don't miss out on the local sagardoa, or cider. Cider houses are common throughout the entire north of Spain, where its consumption is almost akin to a religion. The cider is served in a large bottle or barrel called a "txotx" and is typically poured from a height to aerate the cider and enhance its flavours. The server will hold the bottle or barrel with one hand and the glass with the other hand at a distance from the bottle. Then, they will tilt the bottle or barrel forward and pour the cider directly into the glass, creating a stream of cider that aerates the liquid, enhances the flavours and gives it a slight fizz. Best enjoyed at a traditional cider house, with the traditional Basque cuisine that accompanies it. Discover the secrets of Basque cider making on a guided tour.
Northern Spain: A Hiker's Paradise
If you've never visited northern Spain, you'll find the scenery unexpectedly green and mountainous. The famous Camino De Santiago (Pilgrim's walk) passes close to the Marqués De Riscal hotel and takes hikers to Santiago on an almost-untouched-by-tourism route through the beautiful countryside and mountains. A popular nearby route is the walk from Logrono to Burgos, a beautiful city with a World Heritage Site cathedral.
Scenic Landscapes
The Basque Country is home to some of Spain's most stunning landscapes. The region is nestled between the Pyrenees mountains and the Atlantic Ocean, making it an ideal destination for nature lovers. The Basque Coast Geopark, located between Mutriku and Zumaia, is a UNESCO-recognised site offering breathtaking cliffs, beaches, and rock formations.
The Urdaibai Biosphere Reserve, located on the coast, is a protected natural area that's home to a diverse range of flora and fauna. Visitors can take guided walks, cycle tours, and birdwatching tours to explore the reserve's natural beauty.
If water sports are more your thing, the Basque coastline features many popular surf, paddleboarding and kayaking spots and there are many beautiful beaches to choose from. There are also a number of dive schools from where you can explore the region's diverse marine life.
When to Visit the Basque Country
The climate in the Basque Region is typically mild and temperate, with relatively cool temperatures and moderate rainfall throughout the year. The region experiences a mix of oceanic and Mediterranean climates, depending on the specific location.
If you want to enjoy the region's beaches and outdoor activities, the summer months (June-August) are generally the warmest and driest, with average temperatures ranging from 20-25°C.
However, spring (March-May) and autumn (September-November) can be excellent times to visit. During these seasons, temperatures are generally mild, ranging from 10-20°C, and you can expect fewer tourists than in the summer.
For an unforgettable travel experience, packed with culture and away from the crowds, why not dive into the culture, history and natural beauty of the Basque Region?
Life/Redefined Member Offers
Discover special offers, travel discounts and more here.