Article may contain sponsored links
I Tried Ultherapy: A Wonderful Beauty Alternative to Surgery
No, I have not had a facelift. Yes, I have had Ultherapy. It is a micro-lift but without the surgery.
Have you heard of Ultherapy? I knew very little about the actual process. But I did know that Jennifer Aniston is a fan and that Christie Brinkley is the face of it. And how wonderful do those two ladies look?
I have tried a few different treatments over the past few years, with some excellent results. However, I have refused even more. But when I read up on Ultherapy I was impressed by it.
So, when the Dr. Mulrooney Clinic approached me to ask if I would like to avail of an Ultherapy full face and neck treatment, I jumped at the chance! I am already a fan of the Doctors Mulrooney soothing Seavite Skincare products formulated around the seaweed extract Fucoidin.
What is Ultherapy and the Science Behind it?
Ultherapy is the only US FDA-approved and EU-certified procedure to lift, sculpt and tighten the skin of the upper and lower face (jowls), neck and décolletage (chest).
What are the Benefits of Ultherpay?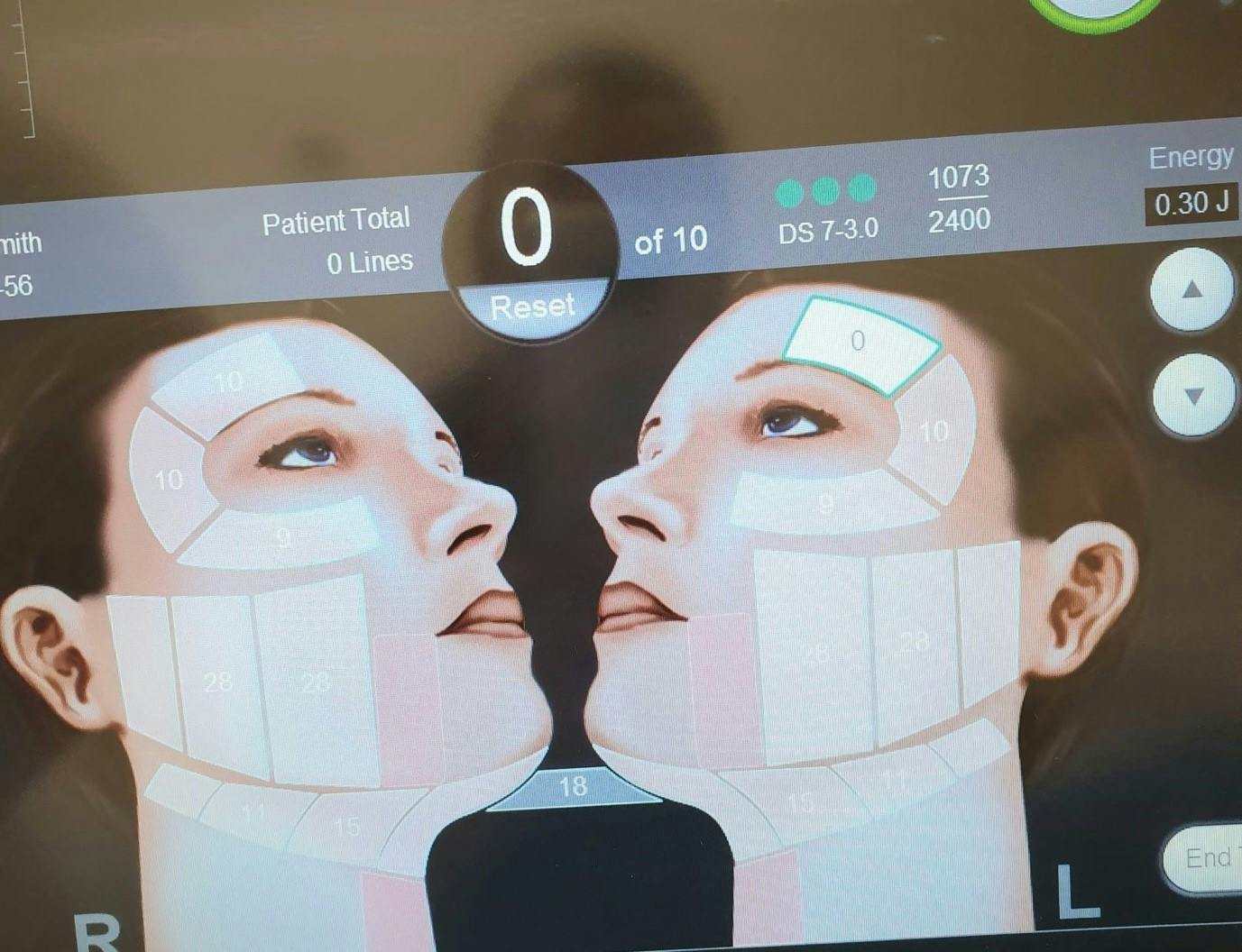 Tighter skin in two to three months. Results appear gradually over that time and continue to improve for up to six months. And in most cases, last for over a year. It is very effective along the neck and jawline area and brows.
Over time, as we age, our own collagen fibres become weakened. These underlying changes to the skin tissue can show up as wrinkles and sagging skin. It is the sagging skin that I hate.
Ultherapy stimulates the own body's collagen production by delivering micro-focused ultrasound with visualisation energy non-invasively, heating skin tissue at three different depths, triggering our own body's natural regenerative response. The body then grows new collagen and elastin. Sounded exactly what I wanted.
The Ultherapy Treatment Protocol
I first had a detailed consultation with Dr. Katherine Mulrooney who took my medical and cosmetic history and concentrated on my cosmetic goals which are tighter, firmer, more youthful skin, of course.
Dr Katherine remarked that I had very good bone structure. However, due to the normal ageing process, I had lost volume from my mid-face and mouth area which was manifesting as loose lax skin along the lower face, neck and jawline. Also the brows had descended making my eyes look tired. HELP!
So Dr. Katherine recommended Ultherapy to help lift and tighten this looser lax skin and lift the brows as she felt I was a good candidate. Also, I had no contraindications such as autoimmune diseases, pregnancy, active cold sores, epilepsy or Bell's Palsy.
What does Ultherapy Treatment Involve?
On the day of treatment, Roisin who is the Ultherapy expert, applied plenty of numbing cream to the areas being treated, while the doctor administered a pain medication to numb the pain. I sat for 30 to 40 minutes, waiting for the medication to take effect in the most beautiful, serene surroundings, sipping my tea and catching up on the latest glossies.
A little later on, once in the treatment room lying comfortably, wrapped cosily in my blanket, Roisin literally drew on my face, mapping out areas for treatment. She then applied some cool Ultrasound gel and placed the 'transducer' on my skin to assess the depth at which to deliver the coagulation points, all the while glancing at the screen to ensure the correct depth was being maintained and that each shot counted!! The entire treatment took about an hour and a half.
Is Ultherapy Painful?
During an Ultherapy session it gets hot, as those coagulation points can reach 60 to 70 degrees centigrade – the ideal temperature for collagen and elastin growth stimulation.
I had read that it could be very painful and initially I found the neck area particularly sore. Roisin moved to a different area as the machine keeps count of the number of lines being delivered for each region selected. Returning later to the neck, I found it much more bearable after the medication had taken effect. The rest of the face was not a problem.
Yes, there was discomfort, but honestly, I cannot say it was painful as she zapped her magic wand over my jaws, cheeks, over my lips, under my eyes and lifted through my brows right up to my hairline. There was a feeling of something like electricity, as she got nearer the hairline.
What is the Downtime like After Ultherapy?
It was only tender to touch when cleansing and applying products, particularly on the jaw area, and very tender under the chin and neck.
Five days later, some bruising appeared on the jawline, but I was able to cover it with make-up. In my case, it did take three weeks for the tenderness to disappear completely.
Below you can see the results in pictures with no make-up. The redness in the 6 weeks later pictures is my own fault …over-used my Vitamin C product. But I had agreed to go back into the clinic for the photos.
What Results I Experienced with Ultherapy
I am delighted with the results. There is a definite tightness on my face, particularly along the jaw area and the apple of my cheeks seem restored and lifted. Several people have commented on how well I look.
I have always had a problem applying eye make-up because I have hooded eye-lids, which have become worse over the years. The treatment certainly made an improvement in this area too.
For some people, the results can last a year or more. It all depends on your age and how well you can produce collagen. You can certainly help the process by taking a good Vitamin C supplement, e.g. Altrient C (a new fat-soluble slow-release Vitamin C), and a healthy and varied diet. And because collagen production diminishes with age, I do not know when I will need another session, but another smaller area (for example, the stringy bands at the top of the neck or any signs of a double chin) could be treated again in 6 months, but not before! The eyes can also be done several times.
Is Ultherapy Right for You?
While Ultherapy does not duplicate the effects of cosmetic surgery; it may be used before, as an alternative to surgery and for post-surgical maintenance of results.
The ideal candidate has mild to moderate skin laxity.
OK, let me say upfront that it is not a cheap option (starts at £340 up to £3000) especially for the larger treatment areas, as in my case. But it is an excellent procedure for putting collagen in the bank. Everyone is different and Ultherapy is a bespoke treatment, targeting the exact areas that need help. There is an ideal treatment window, in that the younger you are the better your body will respond by laying down collagen in response to that injury.
Some people might consider it frivolous to try to hold back time. To each their own. If there are non-invasive treatments out there that work, it is worth trying them. I choose to look as well as I can and I make no apology for that.
On another note, I found the entire team at The Mulrooney Clinic absolutely gorgeous, from the welcome you get from Beverley at reception, right through to Roisin and Dr Katherine. If you are considering any aesthetic treatment, please go somewhere reputable like the Dr. Mulrooney Clinic.
By Hilda Smith, an ageless style ambassador and content creator who is spending her 60s embracing her personal style; road testing the latest and greatest in beauty and living her healthiest happiest life. Follow Hilda on Instagram here. This article first appeared on Hilda's website, Over The Hilda