Article may contain sponsored links
Spice Kitchen: Turning a Retirement Hobby into a Business
Discover how Shashi Aggarwal turned retirement unrest into an impactful spice business.
From Unrest to Unretirement: Shashi Aggarwal on Culture, Community and Cooking with Spices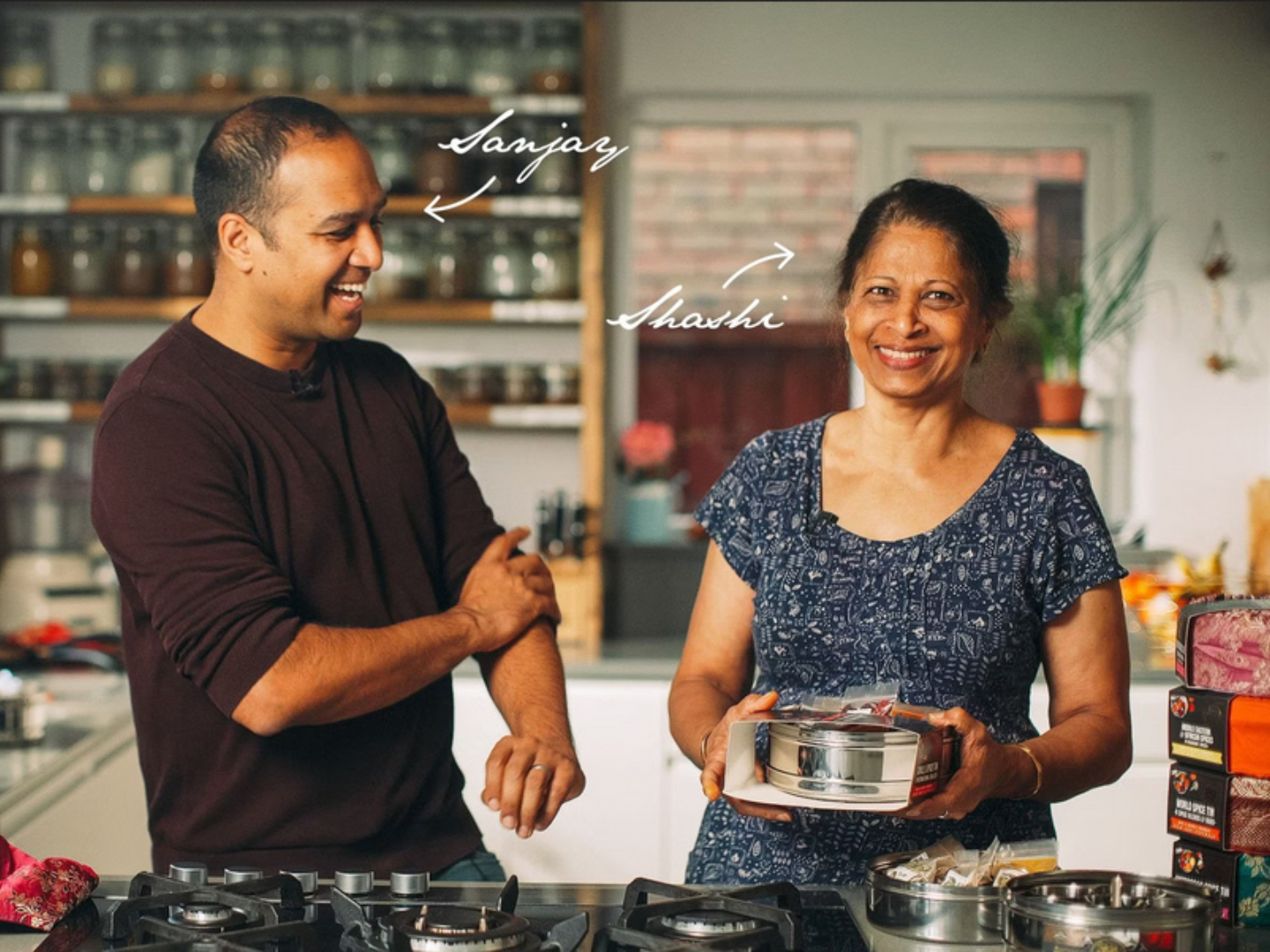 On Christmas eve in 2012, Shashi Aggarwal and her son Sanjay didn't know they'd be having a conversation that would change the course of their family's lives forever. After raising her family and running a hardware store for 30 years with her husband Ashok, retirement beckoned in 2008.
Described by her son as being full of energy, it was no surprise that Shashi experienced that familiar feeling of unrest – she was ready to get stuck into something new! So, she expressed to Sanjay that she wanted to take up a new retirement hobby.
After moving to Birmingham from India in 1972, Shashi immersed herself in the city's expansive foodie scene, expanding her already advanced food knowledge – from Moroccan eats to Italian treats.
Having always had a passion for cooking and the art of blending spices, Sanjay suggested she try selling traditional Masala Dabas (Indian Spice Tins) on eBay. An immediate influx of interest saw Shashi and Sanjay's store flooded with orders.
Soon after, Shashi sprung out of retirement and onto the entrepreneurial roller coaster. A feature on the BBC birthed Spice Kitchen's distinct packaging – where every tin is carefully dressed in a silk sari wrap.
Since then, the enterprise has flourished, with a unique ethos of bringing people together through flavoursome meals – showing it's never too late to pursue a passion.
Starting Small
As with most new enterprises, Spice Kitchen started small. Sourcing only the highest quality ingredients, Shashi and Sanjay sold on eBay and set up a stall at Altrincham Market. Crucially, the mother and son team were able to get to know their customer base through selling their famous tins – and a splash of mulled wine to keep punters warm in the colder months!

As their popularity grew, the company received opportunities to feature on the BBC Good Food show, The Hairy Bikers and they even cooked for the CEO of eBay – where their journey began.
"It's really special, hearing from customers that we had helped to get them through those difficult days of the pandemic." Shashi Aggarwal
Growing and Facing New Challenges

Media exposure and awards only expanded Spice Kitchen's reach, and with their customer base growing every day, they moved to a small manufacturing facility in Cheshire where their range really began to take off.
On top of their flagship Indian Spice tin, Shashi was able to draw from her knowledge of other cuisines to create world collections, whilst Sanjay nurtured his market-shifting idea of creating a Baby Spice Kitchen range.
Covid-19 brought a new challenge to every business, but luckily for Spice Kitchen, people's growing passion for cooking from home opened them up to a wider market, and new recipes were born.
"Of course, we've had our ups and downs. The pandemic was a challenge as we were primarily a retail-based business back in 2019. This meant that when all the shops closed, retailers stopped wanting our tins. We weren't sure if we would make it, but luckily, we decided to get all of our products onto Amazon and other eCommerce platforms, and customers started to buy them to cook from home with their families in lockdown. That was really special, hearing from customers that we had helped to get them through those difficult days." Shashi explains.

An Important Ethos
Spice Kitchen has achieved great success, receiving multiple industry awards including Gift of the Year and the Great Taste Awards, expanding their team, purchasing a large manufacturing space and launching a cookbook sold internationally. Yet, their ethos has remained the same.
From the very start of their journey, Shashi wanted to let her customers know that experimenting with spices is encouraged, and that cooking is a way for families to bond over a meal.
"My hope with Spice Kitchen was to show people, who perhaps are a little fearful of cooking with spices, that it's OK to experiment and trust your own taste buds. There really isn't that much that can go wrong!" she said.
Spice Kitchen's message has been one of community right from the beginning, further shown in her work with the sari making side of the business. Shashi employs individuals from disadvantaged backgrounds to create the tins' distinct sari wraps, emphasising the importance of meaningful employment.
Shashi, Sanjay and the team are looking forward to introducing their range of bespoke single spice blends, whilst exploring a new market after launching the Spice Kitchen Cookbook.
We can't wait to see the new and inventive blends this multigenerational team create in the future and will be dipping into the vibrant recipes detailed in their fantastic cookbook!
Shashi is just one of the over-50s stepping out and making things happen as a later-life entrepreneur. Read the stories of our other shortlisted candidates.
Start a Specsavers Business Partnership
Back in 1984, Doug and Mary Perkins realised that for professionals to really be part of the business, they had to have a stake in its ownership and profits. So they developed the ground-breaking joint venture partnership (JVP) model. For those entrepreneurs with the drive to make it happen, becoming an audiology partner at Specsavers is a fantastic way to take control of a business while avoiding the many risks of starting up on your own. If you're interested, find out more, and perhaps you could be a future unretirement entrepreneur award winner!
Want to hear more inspiring stories from over-50s who are changing the status quo? Visit our Redefiners hub to hear stories and tales of midlifers who are redefining their later life.