Article may contain sponsored links
Revival and Resilience: The Natural Fibre Company Success Story
Revival and Resilience: How Colin Spencer Halsey Made The Natural Fibre Company the Success Story It Is Today
Where There's a Mill, There's a Way: Meet Colin Spencer Halsey of The Natural Fibre Company and Blacker Yarns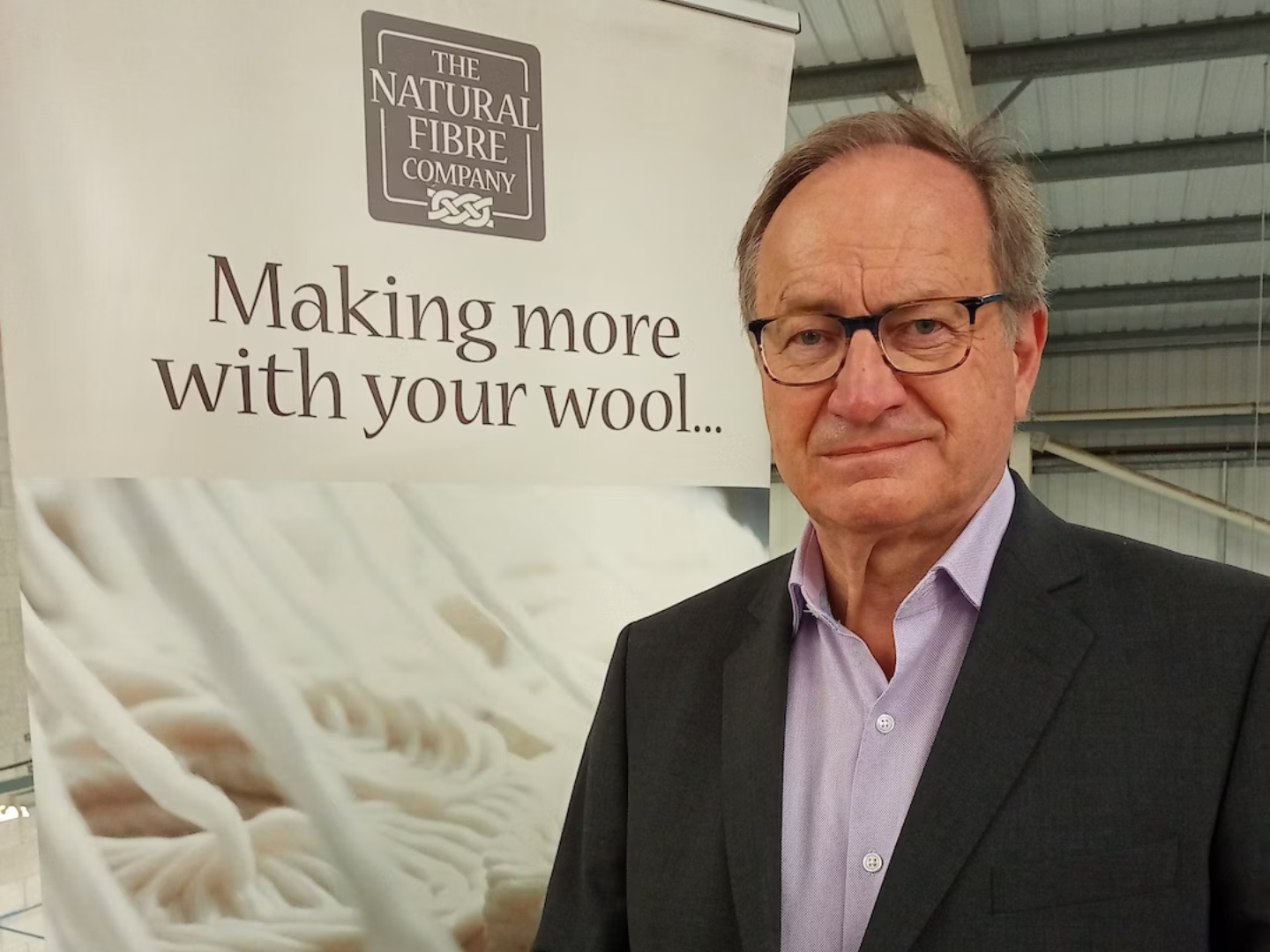 As a West Country based investor, business mentor and strategic advisor, Colin Spencer Halsey is no stranger to receiving significant acclaim. Recognised in The Manufacturer's Top 100 in 2015, Colin took the textile sector by storm in 2019, using his expertise in manufacturing to transform Blacker Sheep Limited Trading (now The Natural Fibre Company and Blacker Yarns) into the success story it is today – and becoming the sole owner and CEO in 2022.
Being the only specialist in the UK that spins both wool and worsted yarns under the same roof, The Natural Fibre Company takes pride in providing all stages of processing in one location. Stand-out sustainability credentials and traceable, small-batch processing has solidified its reputation for producing high-quality products that are made to last.
Its sister company, Blacker Yarns, is no exception, selling 100% British wool yarns for traditional crafting that are breed specific – knitting traditional practices together with a forward-thinking, innovative approach.
The Unbreakable Spirit of an Unretiree
As a self-confessed serial entrepreneur, Colin doesn't shy away from hard graft.
In fact, being the master of his own destiny has been the unwavering driving force behind every career decision he's made. Retirement beckoned after the successful sale of his security business back in 1995, but by 2007, Colin was raring to get stuck into another project, reviving a struggling manufacturing business before beginning the rescue mission for Blacker Sheep Limited in April 2019.
At 65, Colin and his management team were able to weather the storm of Covid-19, subsequent supply chain issues, worker shortages and the rising cost of living where many others failed. By applying 48 years of experience in manufacturing, an expansive portfolio of private investments and service-led brands, new strategies and structures were born.
Colin's keen eye for innovative solutions saw more time being dedicated to the team at The Natural Fibre Company and Blacker Yarns, alongside new strides in systems and processes. A custom-built CRM system and essential machine upgrades have enabled once manual tasks to transition into automated systems, boosting productivity.
Overcoming a challenging four years has led to predictions of a bright future, where the company is making progress in breaking into the international market, expanding its workforce and consistently streamlining its efficiency.
"I am honoured to be shortlisted for these prestigious awards, which recognise, support and champion entrepreneurs across the country." Colin Spencer Halsey
Deserved Recognition

As one of the leading experts in his field, Colin has been both a panellist and a recipient of numerous awards, including but not limited to:
The IMechE Manufacturing Excellence (MX) Awards
Being recognised as an ambassador for the South West Manufacturing Advisory Service
Becoming a finalist in the Services Industries Entrepreneur of the Year category (2021) and the Made in the UK category (2022) of Great British Entrepreneur Awards for the South West region
A Sustainable Solution

Today, The Natural Fibre Company is an ever-growing powerhouse. Based in Cornwall, the specialist vertically integrated woollen mill is run by a team of experts in fibre processing. The company has the unique advantage of working closely with every customer, tailoring a multitude of services (including Scouring, Carding, Woollen and Worsted Spinning, and Finishing processes) all under one roof.
Their green agenda and Future Net Zero accreditation run through every thread of the business. Working with sole traders and local farmers through to large clothing brands has shaped its diverse and growing clientele. Contributing to the circular economy, waste materials are re-used, recycled or donated to local charities.
Accountability is central to the business as well. Building on their environmental policy and annual plan, they have received a Carbon Reduction accreditation alongside installing energy monitors through work with BCR Energy & Carbon Services and continue to commit to new green solutions.
Taking on young people and new apprentices, furthering their research and development work in textiles and working collaboratively with leaders in UK manufacturing reflects the upwards trajectory of the business, and we can't wait to see where The Natural Fibre Company and Blacker Yarns goes next.
Colin is just one of the over-50s stepping out and making things happen as a later-life entrepreneur. Read the stories of our other shortlisted candidates.
Start a Specsavers Business Partnership
Back in 1984, Doug and Mary Perkins realised that for professionals to really be part of the business, they had to have a stake in its ownership and profits. So they developed the ground-breaking joint venture partnership (JVP) model. For those entrepreneurs with the drive to make it happen, becoming an audiology partner at Specsavers is a fantastic way to take control of a business while avoiding the many risks of starting up on your own. If you're interested, find out more, and perhaps you could be a future unretirement entrepreneur award winner!
Colin is just one of the over-50s stepping out and making things happen as a later-life entrepreneur. Read the stories of our other shortlisted candidates.
Want to hear more inspiring stories from over-50s who are changing the status quo? Visit our Redefiners hub to hear stories and tales of midlifers who are redefining their later life.