Article may contain sponsored links
Announcing Award Winner Martin Lewis, the Retired Electrical Engineer Helping People Cut Costs
We are thrilled to announce that Martin Lewis has won the 2023 GBEA Unretirement Entrepreneur of the Year Award. Martin's grandson Harry Jacques, collected the award on his behalf.
It's Never too Late to Follow Your Dreams

Martin's company Homeglow was initially formed to help his late wife, Audrey, stay warm and cope with her multiple illnesses. After witnessing the success of his project, Martin decided to explore manufacturing – where he has since sold thousands of products and gained hundreds of thousands in profits.
Martin's story proves that it's never too late to follow your dreams.
As a retired electrical engineer, Martin used his transferable avionics, keyboard and touchscreen technology skills to solve a problem when his wife became ill. His heated seat cover business, Homeglow, embodies a purposeful mission. The product is designed to support vulnerable elderly and those with multiple health conditions at a low running cost of 1 pence per hour, to retain core temperature and improve their physical and mental health.
Martin pivoted his business during the energy crisis to include councils and online retailers as new customer segments who took on the product to offer their customers warmth at low cost. He has brought significant expertise to developing Homeglow, working with Swansea University to prove the costs and benefits via research.
Now 88, Martin is involving his daughter and grandson in the business, sharing his expertise across generations. His perseverance, problem-solving mindset and desire to help others make Martin a worthy winner.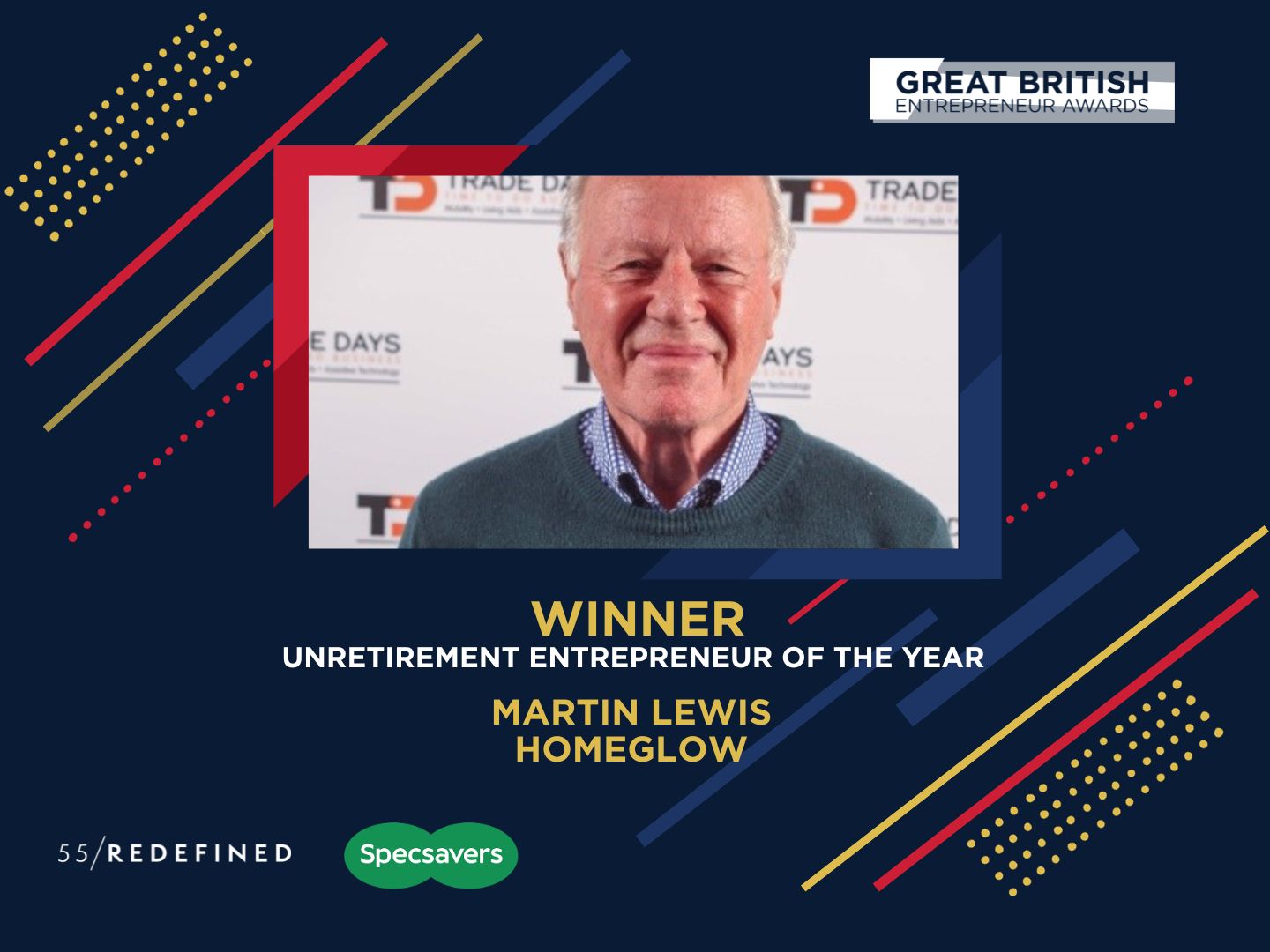 From the Royal Air Force to Launching His Own Business
Martin is not your typical entrepreneur and has held many different careers throughout his life. He was a signals officer for the Royal Air Force during the Cold War, before working in East Africa and eventually ending up in a development team for a startup.
Throughout all these careers, Martin held a passion for solving problems, which was satisfied by the creation of Homeglow. Knowing that a product he created is easing people's struggles – and at a minimal cost – has made every hurdle he's faced absolutely worth it.
"My latest project has given me great satisfaction, knowing that the concept and my solution has opened up a whole new field for easing the people's basic problems – be it keeping warm, easing their pain, increasing a sense of wellbeing and even helping them recover more quickly from illness or discharge from hospital – all for minimal cost," said Martin.
"My latest project has given me great satisfaction, knowing that the concept and my solution has opened up a whole new field for easing people's basic problems." Martin Lewis
The Story of Homeglow

The idea for Homeglow was born in 2009, produced in 2013 and patented in 2016. Even to this day, Martin believes that "nothing else like it appears to exist".
The product is a mains-powered seat cover that supplies warmth from the neck all the way to the knees. It's easy to use – with one button to select one of the four heat settings – and automatically shuts down after four hours for safety. Costing less than one pence per hour to use, it also helps users gain immediate savings on their energy bills.
The benefits of the product were proven through an accelerator programme at Swansea University. After undertaking independent research, the B-Warm heated seat cover by Homeglow has been found to maintain core temperature and improve physical and mental health.
Fast forward to now, and Homeglow has achieved hundreds of thousands in turnover and has grown fourfold in the last 12 months. Major gas distributors and councils are using the product for customers and tenants respectively to help them save costs during the cost-of-living crisis.
Martin also recently appointed his daughter to the board of directors, so that the business can be passed down to the next generation when he's ready to take a step back.
Thinking of Unretiring? A Specsavers Business Partnership be Right For You.
Back in 1984, Doug and Mary Perkins realised that for professionals to really be part of the business, they had to have a stake in its ownership and profits. So they developed the ground-breaking joint venture partnership (JVP) model. For those entrepreneurs with the drive to make it happen, becoming an audiology partner at Specsavers is a fantastic way to take control of a business while avoiding the many risks of starting up on your own. If you're interested, find out more, and perhaps you could be a future unretirement entrepreneur award winner!